Association
In the past, affinity alone was enough to secure your membership base. But today's rapidly changing demographics and multi-channel communications landscape demand that trade and professional associations take time to nurture relationships with existing members and cultivate new ones to survive, let alone thrive. That's why more associations trust DirectMail.com to help them target, recruit and retain members.

The key has always been to get the right message to the right people at the right time.
DirectMail.com's Intelligent Marketing Process™ allows you to engage and build lasting relationships with your current members while identifying, connecting with, and conveying the importance of your mission to prospects. And working with our Insight Engine technology for associations, you'll be able to better understand your member data and bring relevance to your campaigns with:
Personalized and targeted letters and emails
Customized offers and gift strategy
Micro-sites with personalized web addresses
The most effective mix of email, direct mail, phone, Internet, and social media
In other words, DirectMail.com puts the power of insight and knowledge in your hands.
Contact us today to learn how we can help move your organization into the next generation of marketing and cost-effectively strengthen your membership.
Featured Work: AchieveLinks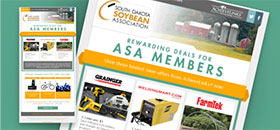 AchieveLinks provides new member benefits to the association market to increase member engagement and loyalty. They needed a direct and digital marketing solution to provide a "turn key" solution to their clients.
Our Solution: We created a 'Member Engagement Roadmap' using our unique data assets, knowledge of the association market, and email marketing execution platform.
Result: Email marketing open rates improved by over 21% and click thru rates improved by over 50%.