Higher Education
With increased competition for students; colleges, universities and trade schools are trying new marketing approaches to achieve better results for smaller investments.

Student recruitment still requires building a relationship between the institution and the prospective student. However, in this age of greater student mobility and more diversified communication channels and touch points, improving marketing response and engagement with prospects is harder than ever.
The key is to understand your demographic data from top to bottom, and to implement that insight with targeted messaging and segmentation to drive more leads and sales opportunities. This is why more higher education institutions work with DirectMail.com to build and execute their student recruitment programs.
Contact us today to learn how we can help move your organization into the next generation of marketing with targeted, personalized outreach programs that will fill more classrooms and improve your marketing ROI.
Featured Work: National Collegiate Client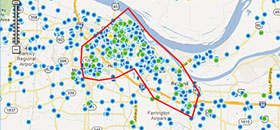 A national collegiate client needed to stand out from other programs, approach new target markets, and recruit adult students. Sending offers based on zip codes is obsolete so they needed an innovative method that would provide the best ROI.
Our Solution: By plotting demographics and travel patterns of existing students, DirectMail.com optimized one client's future lead generation and direct marketing by focusing on areas of great potential.
Result: The number of enrolled students nearly doubled and the school is receiving new inquires at rates higher than anytime in their history.