Nonprofit
In today's highly competitive nonprofit marketplace, developing and executing a well-integrated, multi-channel fundraising communications plan that combines the right balance of reach and touch have never been more important.
Even if you're reaching out to millions of people, you still touch them one at a time. Navigating the road to multi-channel data integration has been a challenge for nonprofits, especially those with limited budget and staff resources. That's where DirectMail.com can help.
We know that, regardless of the communications channel used, building relationships with donors requires a highly personalized and donor-centric approach. Knowing who your donors and prospects are; where, how, and how often they prefer to be contacted; and what makes them give – and keep giving – are just some of the valuable data insights DirectMail.com's fundraising professionals provide.
DirectMail.com's unique Charitable Share of Wallet is a custom, data-driven solution that combines data, analytics and dynamic creative concepts to increase overall Net Revenue. Using this exciting solution as part of your fundraising mix, you can increase response rates and reduce overall program costs.
Fundraising & Membership Development
Raising funds or adding members to your organization is not just about increasing response rates, it's about building relationships.
Contact us today to learn how we can help you establish data intelligence, build dynamic messaging solutions, and execute integrated delivery methods that will enhance your donor acquisition and retention.
Featured Work: Parkinsons Research Foundation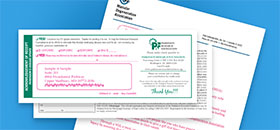 The Parkinson Research Foundation and Muscular Dystrophy Association needed a strategy to target new donors.
Our Solution: Data-driven Segmentation & Targeted Messaging
We applied advanced data segmentation techniques to the client's transaction data to identify specific donor clusters most likely to respond. Using targeted creative, messaging and contact strategy, we dramatically improved results at an overall lower program cost.
Result: Response rate lifted by 43%. Dollars returned by 62%.