Print and Mail Calculator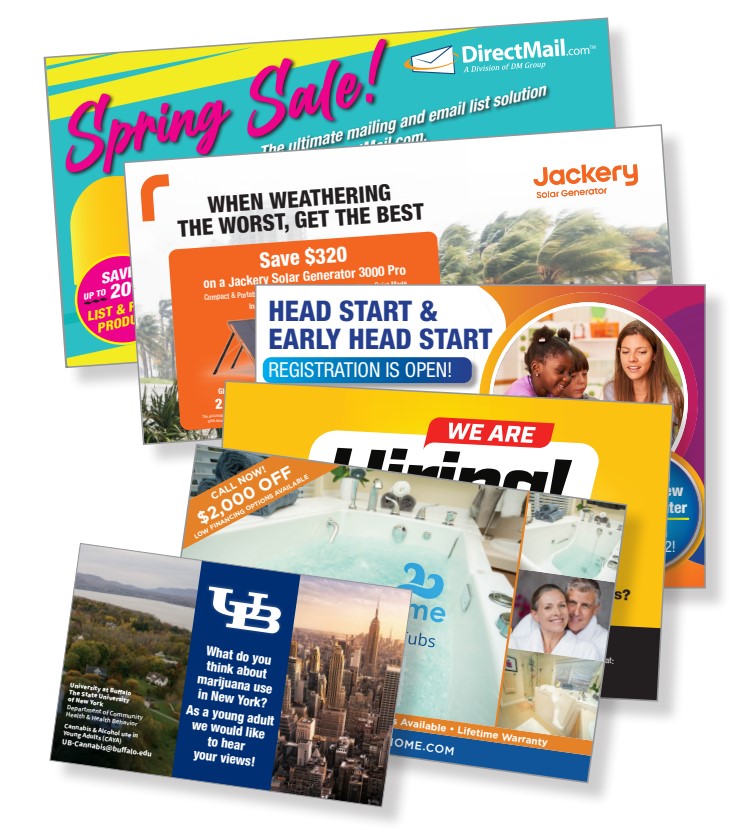 Welcome to DirectMail.com,
your one-stop-shop for all your
printing and mail needs!
Check out our Print and Mail Calculator on left to order your postcards or just calculate your budget.
Postcard Dimensions and Uses:
4" x 6" and 4.25" x 6" minimum size postcards
Get your message delivered quickly and effectively with these smaller postcards! The perfect way to send timely notifications, save-the-dates and announcements. They always mail at 1st Class postage rate to ensure speedy delivery.

5" x 8" and 6" x 9" medium size postcards
Most effective for promotions and for new customer acquisition. These postcards are large enough to help stand out in the mailbox and provide a large amount of space for your message. Most customers will choose to mail this card at standard mail rates.

5.5" x 10.5 and 6" x 11" jumbo size postcards
Most effective for promotions and for new customer acquisition. These jumbo postcards dominate the mailbox and provide the maximum space for your message. Don't let your message get lost in the shuffle – choose our postcards for maximum impact!

8.5" x 11" folded self-mailers
When you need even more space to get your message across, our Self Mailer option is the way to go. Printed on an 8 ½" x 11" sheet that folds to 5 ½" x 11", this option is perfect for when you have lots of content and pictures to share.

Coating - recommended for full coverage printing, helps prevent smudging and scratching.
We're excited to offer our top-of-the-line postcard printing services to help take your targeted mailing campaign to the next level.
At DirectMail.com, we know that crafting the perfect message for your audience is just as important as delivering it to their mailbox. That's why we offer full-service guidance and assistance in developing, designing, printing, and mailing customized postcards to generate leads, drive traffic, or increase sales for your business.
Our team of experts will work with you every step of the way to ensure your postcards are tailored to your unique brand and message. We use high-quality materials and the latest printing technology to ensure your postcards look and feel amazing. And with our state-ofthe- art mailing capabilities, we can help you target the right audience at the right time to maximize your results.
That's why we offer fast turnaround times and flexible delivery options to ensure that your postcards are delivered on time, every time.
Whether you're looking to promote a new product, offer a special discount, or simply stay top-of-mind with your customers, DirectMail.com has the tools and expertise to help you succeed.
So why wait?
Contact us today to learn more about our postcard printing services and how we can help you achieve your marketing goals. Let DirectMail.com be your partner for success!
Call: 1-866-395-4359